Activities
Summer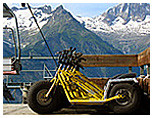 Family-friendly: At the top station of the chairlift in Brandalp Unterbäch the monster scooters are available for you. Here, childhood memories are aroused. You drive 5 kilometers down the Brandalpstrasse to the village.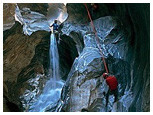 Over millennia, the ice and the melt water of the Aletsch Glacier have created a fantastic rocky landscape - the Massa gorge. Participate on an organized canyoning or exploration trip. (Blatten, 16 km)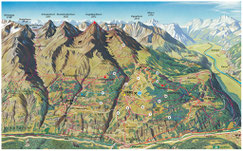 Family-friendy: Enjoy the beautiful moments in the nature while hiking. We are happy to give you information about the possible hikes.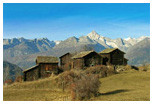 Family-friendly: In the Heidadorf you will find culture, tradition and customs. Enjoy the pure nature and the fantastic view over the fourthousanders of the Alps. (Visperterminen, 5 km)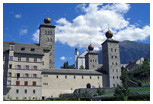 Family-friendly: The Stockalperschloss was built in the 17th Century. The builder put it under the protection of the three kings and called his towers Kaspar, Melchior and Balthasar. In 2001, the Baroque garden with roses, fountains and vineyards has been renovated. (Brig, 14 km)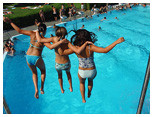 Family-friendy: The outdoor pool Visp offers a cooling and wet fun for the whole family. Free parking and a lovely garden restaurant complete the offer. When the weather is nice, Its doors open from early May to mid-September, from 9 am - 7 pm. (Visp, 12 km)

Winter