Alba B Nr. 5 ***
Quiet, cozy 3.5-room apartement with a fireplace -
2 minutes walk to the ski piste, bus and bakery.
| | | |
| --- | --- | --- |
| In Burchen | 6 beds   | Patio |
| Out in the Open | 2 balconies | Garage |
| Close to the bus stop | 1 double room | Bathtub |
| Hiking and skiing area | 1 shared room | Fireplace |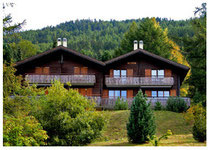 The apartment Alba B No. 5 in Burchen is located only 12 km from Visp and is very quickly and easily accessible by car or public transport.
The apartment is an ideal starting point for active people. In summer there is a wide walking area just in front of the house and in winter the snow-covered mountains turn into a paradise for friends of winter sports.
Relax by the fireplace in the cozy living room or on one of the two balconies where you can enjoy the magnificent view of the Valais and Bernese mountains and the Rhone Valley.  In the backyard, the patio with a streamlet invites you to stay, while your children can play on the meadow or in the nearby forest.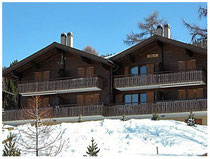 The flat can accommodate up to six people in two bedrooms. In addition, the Alba B No. 5 is appointed with a spacious living room, a fully equipped kitchen, a bathroom with a bathtub and a second, separate toilet. Satellite TV, a washing tower and the nearby village shop gives you a pleasant stay and all the comfort for a longer holiday. 
Those arriving by car can also rent space in the garage. So you will not have to get your car out of the snow.